Sea World Must End All Dolphin Cruelty
posted on March 17, 2016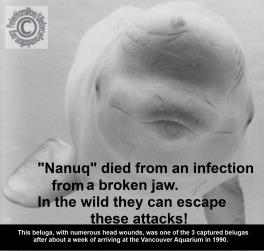 So Sea World announced today that they will stop breeding the orcas, not put orcas in their new overseas aquarium prisons, and not obtain any more for their entertainment business. They also said they would stop all shows with trainers in the water BUT they were ordered in court to do so.
This is a step forward but the present captive orcas will continue to suffer for decades and they will continue to exploit belugas and other dolphin species. They may well obtain other cetaceans from the wild under the guise of "rescue" and then claim that they are unrealisable. That is how the aquarium and zoo industry have gotten captives over the decades.
Further, there is a lot more to this cruel breeding issue. Sea World must stop breeding belugas and other dolphin species.
There is no education and conservation from these aquatic circuses. For example, in addition to the continuous physical and psychological stressful transport between aquariums, the public was not told about the artificial insemination experiments between Sea World and the Vancouver Aquarium. There are at least 6 baby deaths fathered by the Vancouver Aquarium's wild caught beluga "Nanuq" at Sea World. This was between 2006 and 2012. Some of the births were by artificial insemination in which "manual stimulation with a glove hand" was used to get the beluga to ejaculate into an "artificial vagina". Nanuq had to be "trained" for 2 years. They took 42 semen samples and used 10 of them in 7 females. Sea World bred at least 8 belugas. Every other baby goes to the breeding facility. Vancouver Aquarium may now "own" 8 belugas.
In captivity the majority die prematurely. Similar claims that belugas live just as long in captivity as they would in the wild are similar to claims regarding the longevity of orcas. That was proven to be false. In a nine-year period, five belugas perished at SeaWorld. Two more were stillborn. Seven have managed to survive, a 50 percent mortality rate. All 14 were fathered by Imaq or Nanuq. Nanuq was shipped around from one SeaWorld location to the next, for approximately 11,000 miles.
In 2015 "Nanuq" died . He had an infection due to a fractured jaw resulting from fighting with others in their so-called "compatible social group". Numerous abnormal aggressions have been documented with some attacks being fatal or injurous to both the captive cetaceans and trainers. The Vancouver Aquarium had to separate belugas due to severe bite "raking". Some were kept in the back holding pool out of public view. The male, "Imaq", was confined there for over 2 years.
A 3-week-old beluga calf, who was never even given a name, died last year at SeaWorld San Antonio. Two-year-old Stella died just months later. The babies' father, Imaq, is one of the whales on loan from Vancouver.
In response to the recent of beluga abuses at Marineland in Ontario Lifeforce would like to remind all about similar issues with captivity at the Vancouver Aquarium and Sea Worlds:
1. Belugas have suffered for long periods due to health problems before dying.
2. Belugas have been separated, in some cases isolated, in the holding pool out of public viewing for over a year. For example, "Kavna" and "Imaq".
3. There has been severe aggression between belugas. The visible signs (in addition to the psychological ones) are tooth rakings. (see photograph)
This announcement saw their stocks soar by 9.5% today. This is just a profitable public relations move. Hopefully all cetaceans will eventually profit from Sea Worlds ending all dolphin cruelty.