Bc Fisherman Fined!
posted on September 9, 2020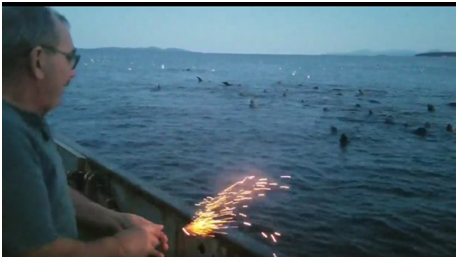 B.C. fisherman fined $8K after throwing explosive into crowd of sea lions
September 8th, 2020 CHEK TV

A commercial fisherman from B.C. has been fined $8,000 after he was recorded throwing an explosive device toward a group of sea lions in the Strait of Georgia last year.

Allen Marsden was facing three counts under the Fisheries Act and Explosives Act for tossing a small, explosive device known as a "bear banger" from his boat toward the crowd of animals near Hornby Island on March 4, 2019.
Charges were laid against Marsden on Feb. 26, 2020. His court appearance was initially scheduled for March 26, 2020, but was delayed due to the COVID-19 pandemic.

Fisheries and Oceans Canada had confirmed the charges back in February. Then on Tuesday, Fisheries and Oceans Canada said that on Aug. 24, Marsden pleaded guilty Courtenay Provincial Court to disturbing marine mammals under section 7.1(b) of the Marine Mammal Regulations.
Section 7.1(b) of the Marine Mammal Regulations states that: "No person shall disturb a marine mammal except… when fishing for marine mammals under the authority of these Regulations."

Marsden was fined $8,000 and prohibited from possessing explosives for the next three years.

Fisheries and Oceans Canada said the video of Marsden taken in 2019 show Marsden stating openly that his purpose in using the explosive device was to deter the sea lions from interfering with his fishing operations.
The video was posted on the Pacific Balance Pinniped Society Facebook page. The group wants to revive the seal and sea lion hunt on the west coast.

The video led to an investigation by fishery officers from the Georgia Basin North Conservation and Protection detachment out of Nanaimo.

Fisheries and Oceans Canada says if anyone in the public for information on any contravention of the Fisheries Act and regulations can call the toll-free violation reporting line at 1-800-465-4336, or email the details to DFO.ORR-ONS.MPO@dfo-mpo.gc.ca.

Background by Lifeforce
"Seal bombs" can cause serious physical harm including deafness, eye damage and life threatening injuries. Especially when thrown directly at the victims. Even at greater distances orcas and humpbacks could have been harmed.

DFO should be commended for enforcing wildlife violations under the Marine Mammal Regulations. Further violations are being investigated by DFO.

Although DFO has not allowed the "Pacific Balance Marine Management" to start a hunt they still want to kill tens of thousands of pinnipeds. The seals and sea lions would have been inhumanely clubbed, shot (rifles and shotguns) and harpooned by crossbows! PBMM are presently urging fishermen to shoot as many as the can!!!

Please Help Lifeforce continue our important work by making a greatly needed donation to the Lifeforce Foundation through Paypal > PLEASE DONATE.
Thank you!