Thanks By Giving All Cetaceans Peace!
posted on October 10, 2021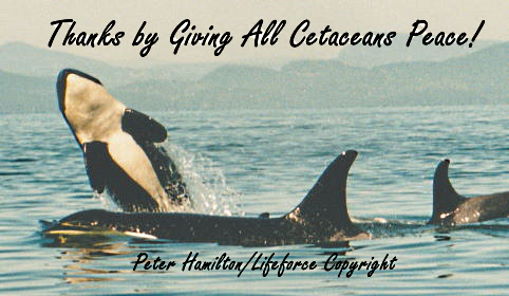 Thanks by Giving All Cetaceans Peace!
Some Lifeforce History
October 10, 2018
Our full response to Governor's Inslee Orca Task Force: "It is Black and White: No More Compromises! Keep the SRKWs Alive!" covers issues that may not be addressed by the Governor's Task Force. This report includes the 10 recommendations that are summarized below to help the SRKWs and others
Lifeforce Ocean Friends Recommendations
1. Ending Aquarium Captivity for Entertainment and Experiments.
2. Stop Boat Traffic! Including Research Boat Traffic!
Implement a Moratorium on Whale Watching the SRKWs. This should include all eco tours, research and private boater traffic.
3. Eco Friendly Whale Watch Companies?
A licensing system must limit the number of whale watching vessels. Training of whale watching staff must also include learning about wildlife ethics, animal rights and speciesism.
4. Stop Starvation!
There must be minimum 5 year fishing moratoriums on salmon, herring and other species. The Ocean Food Chain is broken! Implement Moratoriums to Save Fish Now or Lose Them Forever!
5. Increase Boater Awareness Education! Increased Enforcement!
The public, industries and others must be better educated! Training by marine associated businesses and associations must include Marine Mammal Regulations and how to properly operate boats for the safety of both orcas and people.
6. Call Them! Don't Bomb Them! Stop Noise Pollution!
The use of passive orca playbacks must be a priority for oil spill responses NOT seal bombs and other possible harmful methods presently listed as priority government response methods. Playbacks, developed by Lifeforce, can attract orca pods away from oil spills and other dangers.
7. Disturbances from Other Noise Sources
There should be joint discussions between the US and Canadian governments for matters that impact the SRKWs in each country. This would include the Navy/Armed Forces Tests that include detonation of bombs, Seismic Testing, marine construction that includes pile driving etc. and other potentially harmful activities.
8. Stop Invasive Experiments that Resulted in the Death of a SRKW! Stop Research Boat Traffic!
Sentient, endangered orca families must not continue to be treated as research tools. They are being studied to death and it must stop! Research vessels drive right over orcas and get within meters interrupting foraging and more.
9. Stop Further "J50" Failed Experiments! by the aquarium industry, government and others
10. There must be Joint Canadian and US Environmental Impact Studies/Legislation/Treaties for the Protection of Transboundary Species and Shared International Waters! Save the Orcas, Salmon and all marine lives!
For further information: lifeforcesociety@gmail.com
Lifeforce has been fighting to save these orcas from extinction since 1981. You can contribute to protecting these orcas by making a donation to Lifeforce Foundation through Paypal. Lifeforce Donations.